pa nista... ajde da krenemo.
Rock and Roll (
Rok end Rol
), ili samo Rock, je vrsta muzike koja se svira uz pomoc elektricnih instrumenata. posebnu paznju osvaja elektricna gitara. nastao je iz crnacke muzike Blues (
Bluz
) pedesetih godina dvadesetog veka (verovatno u SAD-u). slusaoci ovakve vrste muzke zovu se Rockers (
Rokeri
). za njih su karakteristicne duboke patike, sa ravnim djonom ili popularne Starke (Converse All Star), kozne jakne i farmerke. po prirodi su buntovnici protiv sistema. sitema i u smislu drzavnog uredjenja i u smislu sistemskog nacina zivota, po nepisanim pravilima i nametnutog od strane bogatasa.
neke od najvaznijih imena pocetnog doba su:
- Evis Prisli (
Elvis Presley
) - covek koji je prvi Rock predstavio sirokoj javnosti i doneo mu veliku popularnost.
- Bitlsi (
Beatles
) - takodje doprinelai popularnosti, mada je njihov sitl muzike bio dosta meksi.
- Stounsi (
Rolling Stones
) - mozda i prvi pravi Rock (Hard Rock).
- Dzenis Dzoplin (
Janis Joplin
) - prva zena u Hard Rock-u. neverovatna pevacica i luda ko' struja.
- Dzimi Hendriks (
Jimi Hendrix
) - najbolji gitarista ikada. legenda medju legendama. zivece sve dok postoji Rock... znaci zauvek!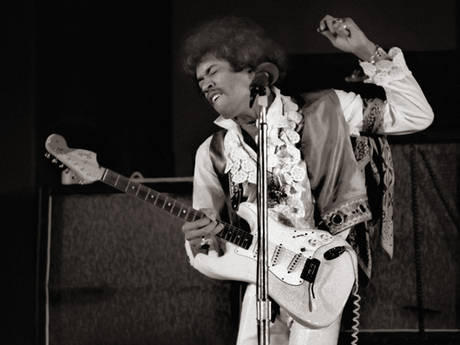 - Pink Flojd (
Pink Floyd
) - najbolji psychedelic Rock bend, koji je produbio granice umetnosti muzike.
- Blek Sabat (
Black Sabbath
) - prvi bend koji je uneo mracnu stranu u Rock. uz Led Zeppelin i Deep Purple predstavlja uzor za buduci pravac... Metal. zamislite
naravno ovo su samo neka od imena, jer kada bih pokusao da navedem sva vazna imena, verovatno bih umro u pokusaju.
Rok je, naravno, veoma brzo prihvatila evropska publika, narocito Englezi, koji su zatim objasnili Amerikancima kako se On svira. najuobicajene teme su zene, sex, teme o zivotu, drogama, alkoholu. u principu peva o ovozemaljskim uzivanjima, zbog kojih je cesto poistovecivan sa Djavolom, nazivan kao djavolska muzika.
najzastupljnij vid ove muzike je takozvani Hard Rock. energican, pun zivosti, sa brzim melodijama gitare koje te teraju da se oslobodis i igras ili mrdas, ali nikako da stojis mirno. nakon njega za mene dolazi najvazniji vid muzike uopste, koji je promenio sve. to je Psihodelicni Rok, koji je svojim tekstovima, zvukom gitare i upotrebom klavijatuje i elektronike dostigao vrhunac muzike i predstavio publici novi nacin gledanja na zivot. uticao je na razvoj elektronske i progressive (
progrsivne
) muzke i direktni pratioci su ljudi iz Hipi kulture.
danas su poznati zanrovi Alternative Rock, Electro Rock, Indie...